Location & Time
Saturday, April 22nd
the yoga movement: 4931 Airline Road, Dallas, TX 75205
1:00 - 4:00pm
Event Description
Traditionally, Yoga and Ayurveda went hand in hand. One was not understood, nor taught, without the other. Ayurveda, or the "science of life" is the ancient yogic "medicine" that acknowledges individual differences, lifestyles, imbalances and treatments.

For the Yoga Teacher or serious yoga student, an understanding of Ayurveda is part of a complete yoga practice and lifestyle. It is essential to offering a comprehensive class experience for students.

In this workshop, Christina Vargas, Ayurvedic Health Practitioner will teach you the foundation of this 5,000 year-old science. You will learn how to live harmoniously with simple seasonal practices, diet and asanas to be your most VIBRANT Self!

• Fill your seasonal tool bag with Ayurveda healing practices
• Refine your dietary and self-care regimen
• Identify dosha in students and yourself
• Address common imbalances

*Prepare to enjoy an ayurvedic meal together – including ghee (the yogi's healing balm) and kitchari (the yogi dish for resetting when out of balance).

INVESTMENT $40 CEU's available for Yoga Teachers + Therapists.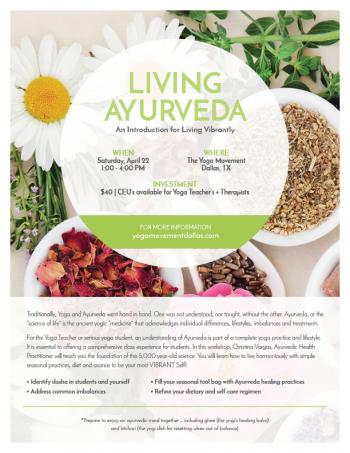 Testimonials
As an RN, I've always been skeptical about holistic health care. I'm so glad I had reached the end of my rope and opened my mind to giving Ayurveda a try.
read more